EKA ACADEMY
FIFA STANDARD STADIUM
Elevate Your Sports Journey with Our Diverse Academy
We offer 14 sports that include Football, Basketball, Cricket, Boxing, table tennis, badminton, pool table, Squash, Karate, Skating, Swimming, Chess, tennis & Volleyball.

Our highly certified coaches help our member kids sharpen their sporting skills and add value to their careers at our sports academies.

Our members are privileged to play football in FIFA Standard stadium & tennis at the 7th-floor, open-air court where you can enjoy the serenity of the famous kankaria lake while enjoying your morning game.
FIFA Standard Football Pitch
20,000 seater FIFA Standard Football pitch. The Football Pitch is ideal for holding large scale events like concerts, carnivals, exhibitions or shows.
MULTI - SPORT HALL
A 9,515 sq. ft. sports hall is home to many of the coaching programs. Whether it's a game of badminton, basketball, kabaddi, self-defence, futsal, box cricket or volleyball
TENNIS
The most exhilarating playing experience from its rooftop tennis court facing the beautiful Kankaria waterfront
BADMINTON
6 vinyl flooring courts for comfort play, enclosed in a fully air-conditioned room and spacious enough for players to experience a game without constraints.
TABLE TENNIS
With 5 regulation size world-class centrefold tables, sport appropriate flooring, ample spacing, high ceilings and bright concentration lighting.
Basketball
Enthusiastic hoopsters can enjoy a fun game of basketball at EKA's well-maintained indoor and outdoor courts.
SQUASH
3 international standard squash courts with perfect lighting for patrons to enjoy an exhilarating game.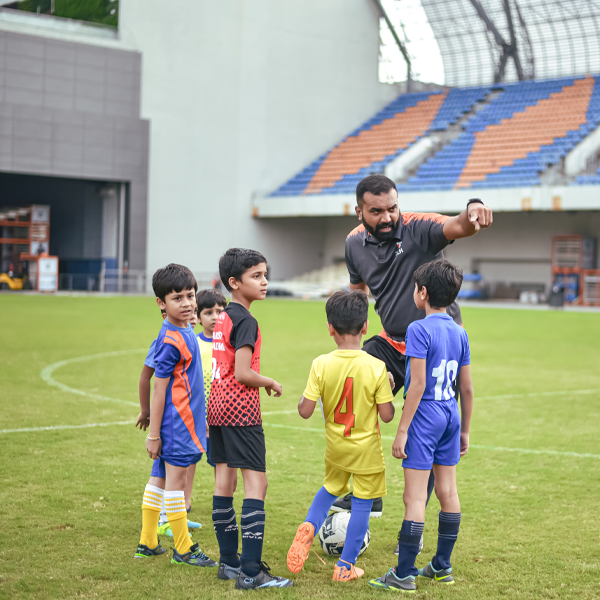 EKA academy
TransStadia's sports science, medical & rehab centre, EKA members & their family can get access to special health packages to check fitness level, get injury treatment, nutrition planning and much more.
sports
MORE THAN
A WORKOUT
Fitness classes at EKA are experiences,
created, and developed by the industry's
best minds bringing results through innovation.
A Journey to a Conscious Lifestyle
When we conceived the Eka Life, we wanted to go beyond a product or a service. Our endeavor is to give you an experience that will transform you to lead a conscious lifestyle to help you be the best you. You are important to us and each and every experience for our customers / members is unique and differentiated and designed in specific for you.

For us, the Eka Life is a way of life, a religion that becomes an integral part of our daily routines. Our team of qualified professionals will walk you through simple programs that are easy for you to adapt which will result in a better way of life for you – you could either be one of our esteemed members where we will bring day to day interventions for you, or you could practice our programs at your home or place of preference.
ASSESSMENT
EKA Fitness Assessment Centre offers comprehensive assessments which broaden your understanding of your personal health and fitness goals while providing baseline measurements of your current endurance, strength, flexibility and coordination. Monitor your progress by getting assessments on regular intervals.
TRAINING
Sculpt your core and build yourself with fitness tips and training advices from our trainers. From challenging workouts to recovery tactics, keep your body in tip-top shape with expert advice.
NUTRITION
By adopting sensible eating habits and practicing portion control, you can lose weight. Eating nutritious foods so that you take in as many calories as you need to maintain your health and well-being at your ideal weight.

Our team of nutritionists are here to help and guide you through this course of time to transform you into a healthy person..
YOGA & SPORTS
Our team of experts have taken a unique approach to bring in specifics of yoga into sport by the need of that sport. All sports require different physiological frameworks, strength and conditioning programs, nutrition and skill sets. The diversity of Yoga can be applied to each sport keeping in mind the body's requirement by applying specific asanas and breathing techniques. At TransStadia our group of experts are combining the science of yoga and sport.
WELLESS MANAGEMENT
An increase in urbanization, packaged foods, e-commerce, and desk jobs are making it more and more difficult for people to lead an active lifestyle. Our wellness program aims to have an impact in people's lives, and help them overcome a host of issues, health problems, and much more.

After every session, we want you to feel rejuvenated and find yourself in a better position than yesterday.
PHYSIOTHERAPY
Whether you are an athlete, weekend warrior, or simply have a busy schedule, you shouldn't be in pain. Your health deserves 100% of our attention that is why we don't juggle numerous patients in one-time slot. Our holistic approach treats your symptoms and their root causes to reduce stress on your body, promote healing and support you back to optimal health, fitness and happiness. We can ensure your treatment is unique to your needs, all your questions get answered and you're back to your best in the quickest time possible.
PRE & POST REHABILITATION
Pre and post surgery physical therapy not only speeds up your recovery time, it also reduces the risk of re-injury. Our goal for your rehabilitation is to give you individualized treatment that allows you to return to normal activities. We want to not only get you to pre-surgery levels of function but to get you better than pre-surgery.

Whether you would like to avoid surgery, are preparing for surgery, or have had surgery, let us shorten your road to recovery. We can help you reduce your pain and better your health..
ORTHO REHAB
Orthopaedic Rehab is a process, used to relieve pain and reduce inflammation. Ligament tears, sprains and muscular spasms respond positively to this kind of treatment, which helps reduce atrophy and improve blood circulation.

Our EKA Life Rehab Centre provides a wide variety of orthopaedic rehab services. If you are looking to any such services, we are ready to serve you at our best with the following:
PAIN MANAGEMENT
Pain Management is for children having issues with physical cognition & mental disabilities, which affects their growth and development. The aim is to regain and restore their functions and improve their quality of life; socially and academically.

We address conditions like cerebral palsy, brachial plexus palsy, myopathies, learning difficulties, autisms, traumatic brain injury, genetic disorders like down syndrome, spinal muscular atrophy etc.
ASSESSMENT
Fitness testing is a great way to monitor and assess child's ability as it relates to aerobic fitness, strength, and flexibility.

At EKA Fitness Centre, our trainers conduct customised fitness tests that we use to measure your kids' health, and help your child get in tune with their bodies to overcome physical challenges with proper improvement plans.
NUTRITION ASSESSMENT
GMO foods, preservatives, colours, sugar etc are quickly and quietly creeping into their lifestyles and without us even noticing; thus impacting physical and mental growth, energy levels – leading to a huge upswing in new age illnesses. This can be easily corrected with healthier and tastier options easily available either at home or from outside. Work with our experts to give your child the best.
FUNDAMENTAL MOVEMENT SKILLS
With the team of our experienced fitness trainers for children, our main focus is to create positive early fitness experiences in the children to encourage lifelong participation. Once children begin to regularly incorporate fitness into their experience, they are more likely to modify other health factors to complement their healthy lifestyles.
TRANSSTADIA ACADEMIES
A coach impacts more Children in a year than most of us do in a lifetime. Our well qualified coaches use a dynamic parent involved program to create exciting routines for fitness, skill development, match play and cognitive growth for excellence in participative and competitive sport. Come be a part of our Academies - a stepping-stone to a great future in sports.
MENTAL SKILLS
A child is born with mental skills but over the period of time it needs to be enhanced by viewing competitive situations in a productive way. There will be struggles and challenges just like with physical skills, but if a child works hard, he/she will improve over time.

We have a team of mental skills specialists who will enhance and nurture your child
Athletes & High Performance
ASSESSMENT
Our fitness tests are designed to monitor progress and to assist in your fitness development program. Fitness tests may include body composition, cardiovascular, flexibility, strength, and endurance testing. Power, speed and agility evaluations may be provided for certain athletes.

We have an extremely friendly and encouraging staff, highly trained with lots of experience to guide you through the assessment.
BIO MECHANICS
We are a team of experienced Biomechanics specialists for the prevention and treatment of pain and injury. We utilize an integrated approach by identifying the weakest link, evaluating the whole picture, not just the presenting symptoms – restoring balance and functional pain free movement.

We treat walkers, runners, athletes, skiers and snowboarders. The very young to the very old and everyone in between.
STRENGTH & CONDITIONING
We specialize in specific strength & conditioning training. Our focus is put into many areas such as strength, power, core stability, neural co-ordination, mobility, speed and agility, all periodized for your current fitness/competition level and what your goals are.
SPORTS NUTRITION
Sports nutrition is the foundation of athletic success. It is a well-designed nutrition plan that allows active adults and athletes to perform at their best. Right choice of food, energy, nutrients, and fluids are required to keep the body well hydrated and functioning at peak levels.

Our Sports nutritionists provide unique plan to athletes according to individual goals which could include gaining lean mass, improving body composition, or enhancing athletic performance.